General Aviation Leadership Forum – 25th June 2020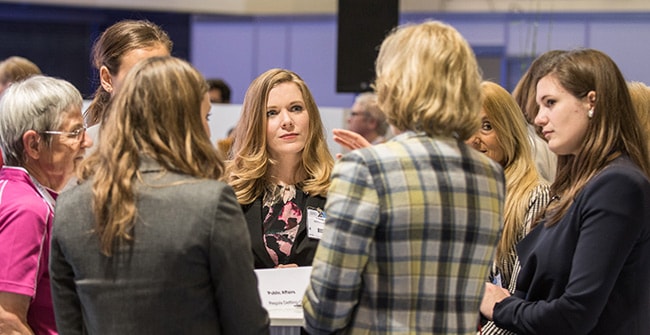 Starting at 2pm UK GMT time on Thursday 25th June 2020, the International Aviation Womens Association (IAWA) will be holding their annual General Aviation Leaders Forum virtually.
The GA Forum will be a full day event and there are varying pass types to take advantage of the days events, starting from a free pass which allows you access to the coverage on the day, to a paid for pass which allows access for three months.
This all-aviation leadership event is exclusively organized and presented by women with exhibition booths from industry-leading companies. It's a great opportunity for leaders of aviation and aerospace, female leaders looking to be empowered, and university students of aviation and aerospace. 
The event aims to allow attendees to gain inspiration and education as well as opening up many networking opportunities.
The sessions will include:
Keynote sessions by women that will inspire all leaders.
With speakers such as Tammy Barlette, former fighter pilot, attendees of the 2020 GA Forum will be inspired to tap into their social courage, lead from within their workplaces, and drive innovation in their industries.
Panel discussions held by women on all things aviation.
Attendees will be able to choose their own journey, watching on demand panels of women discussing topics such as "Why Women Own Planes," "Managing a Diverse Team," and "Unique Challenges for Female Pilots".
Exhibition booths with the ability to interact with exhibitors.
Attendees will be able to visit interactive, virtual booths to learn more about industry-leading companies. At booths, attendees will be able to interact in real-time through media, chat, audio, and video.
The agenda which was released a short while ago, is as follows:
2:00 PM UK Time • Conference Opens
2:15 PM UK Time • Keynote Session 1: Grazia Vittadini
3:00 PM UK Time • Keynote Session 2: Tracey Curtis-Taylor
4:00 PM UK Time • Keynote Session 3: Deidra Romero
5:00 PM UK Time • Keynote Session 4: Sylvia Acevedo
6:00 PM UK Time • Explore the Exhibit Hall & Panel Discussions
6:30 PM UK Time • Keynote Session 5: Amy Bruske
8:30 PM UK Time • Keynote Session 6: Tammy Barlette
10:00 PM UK Time • Live Sessions End.
Access available until 14:00 PM UK Time on June 26th.
To join the event, visit their website.