Instrument Rating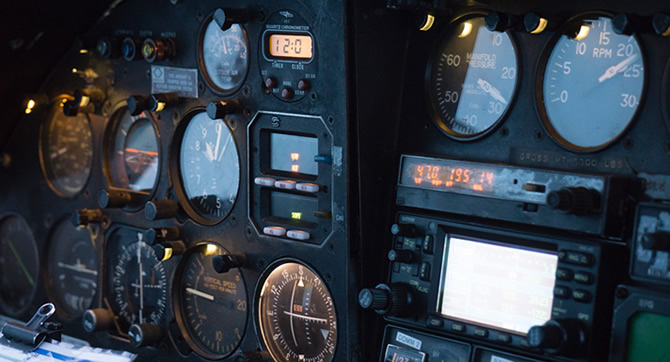 Anyone who holds a valid Private Pilot Licence (PPL) or Commercial Pilot Licence (CPL) is able to undertake instrument training, if you only have a Class Two medical then you will be required to undertake a pure tone audiometry test to the same requirements and frequency as for a class 1 medical. If you hold a PPL and would like to use an Instrument Rating at night then you will also need a Night Qualification. It is a little more common that those holding a CPL or those going on to fly for a commercial operator may complete an IR, however a Private Pilot can also add an Instrument Rating to their licence, to enable them to fly their private aircraft in airways, for example.
Before you begin an Instrument Rating, what do you need?
As mentioned above, you are required to hold either a CPL licence or a PPL licence as this is merely a rating and is not valid alone without a licence. You will also require a valid Class One Medical or a Class Two Medical, with the stipulation mentioned above. (More information on that in our Medicals Section) as well as having completed the required theoretical knowledge which consists of a the below:
Air law
Aircraft general knowledge – instrumentation
Flight performance and monitoring
Human performance
Meteorology
Radio navigation
IFR communications
Many people will opt to complete all 14 ATPL (Airline Transport Pilot Licence) exams incase they later decide to progress on to completing a CPL and later applying for an ATPL. You must also be 18 years of age for an Instrument Rating being issued.
If you are planning to complete a Multi-Engine IR and don't yet have a Multi-Engine Piston rating then you will need to complete this as part of your IR course, but before the instrument part of the training begins.
As far as flying experience goes, apart from the licences required above you will also need to have logged at least 50 hours of cross country flight time as Pilot in Command (PIC) in an aircraft.
As well as a full EASA Instrument Rating there is an option for a UK Instrument Rating (Restricted) an IR(R), which much like it's predecessor the IMC rating, allows a PPL holder some basic elements of the IR. It's seen more as a 'get-out-of-trouble' card. For this, we have more information here.
What will I, and what am I required to do during the IR training?
All schools undertaking any Instrument Rating training will be what is called an 'Approved Training Organisation' and they will have been specifically assessed and approved by the UK Civil Aviation Authority, this includes instructors, facilities and quality of course. You will therefore be enlisted on this approved course which will consist of a minimum of 55 hours instrument training, for a Multi-Engine IR, or 50 hours for an IR in a Single-Engine aircraft. Out of these hours, 40 may be completed in an approved simulator for Multi Engine and 35 hours for Single Engine courses. The course is very comprehensive and will teach you in detail the necessary skills to pilot an aircraft in controlled airspace under Instrument Flight Rules (IFR).
As the training progresses you will be taught how to handle the aircraft under instruments, emergency procedures, holds, airways flying, procedural approaches and let-downs to commercial standards.
You must have completed the multiple choice examinations produced by EASA (European Union Aviation Safety Agency). To complete these examinations you must enroll at an approved ground training facility, which can mean you will complete your study in a class-room based environment or you can choose to do this by distance learning, of which there are several UK providers.
For the issue of an IR, you must have completed all of the above requirements, you will then be required to undertake a Licensing Skills Test with an approved CAA Examiner. Having passed this you can apply to the CAA for the issue of your Instrument Rating.
So, what are the specific privileges of holding an Instrument Rating?
The holder of a EASA-IR is permitted to:
Fly in all weather conditions
Fly in airways in accordance with either your CPL or PPL licence.
Is my instrument rating valid for ever?
Your rating is valid for 12 months from the date of issue and must be re-validated by the following method:
A Proficiency check with an approved examiner in the proceeding 3 months before expiry.
If the rating has expired then you will be required to complete a renewal:
You will be required to carry out the Proficiency Check in an aircraft not a simulator.
If the rating has expired by more than 5 years then:
You're then required to complete and pass a Skills test with an approved examiner.
What is the cost of obtaining an Instrument Rating?
Once again there is no absolute fixed cost when you are gaining an instrument rating, it will largely depend on which school you chose and how long it takes you to complete the course. We've completed a list below of some variable costs, be sure to ask your prospective school how much each of the below cost before embarking on your training as some schools may avoid explaining the extras!
Hourly aircraft hire rate including an instructor.
Landing fees, Touch & Go fees and approach fees for the entire course.
School membership fees.
Exam fees, including ground exams and flight test fees.
Cancellation and no-show fees.
As well as the above costs there are also a number of other fixed costs to take into account when making your calculations:
Class One medical fees costing upwards of £330.
Equipment and study materials. These can be purchased online and usually amount to approximately £600-£1000 depending on whether you decide to purchase your own headset, which on their own can cost as much as £600 for the advanced sets.
Examiner fees and licence issue fees, these can be found on the CAA Scheme of Charges document, by clicking here.
Having taken all these costs into account an IR dependant upon your location and choice of school and also whether you are completing a single-engine or multi-engine rating and can cost between £14,000 and £18,000, this of course would be with the minimum 55 hours of training.