Multi-Crew Cooperation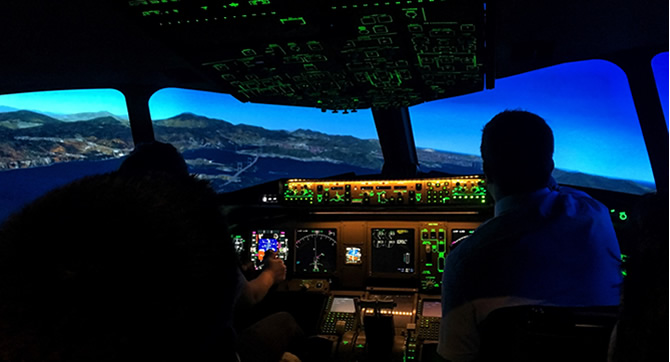 Since 1999 the Multi Crew Cooperation Course or MCC for short has become a requirement before the commencement of a CPL/IR holder's first type-rating course. MCC courses are completed in a simulator, be that a static sim or a full-motion simulator and can be completed on anything from a light twin aircraft through to a Boeing 737 aircraft.
Before you begin a Multi-Crew Co-operation course, what do you need?
To enroll on a MCC course you a required to hold a Commercial Pilot Licence (CPL) and an Instrument Rating (IR) in most circumstances. It is recommended you check with your MCC provider for any further specific requirements as courses can vary from provider.
What will I be doing during the training?
MCC training may be conducted as part of an Airline Transport Pilot Licence (ATPL) integrated course or Multi Pilot Licence (MPL) integrated course. Alternatively, MCC training may be combined with Type Rating training (for maximum benefit to the student) or as a standalone modular course.
Courses, once again can vary in length and are completed on a variety of different aircraft and aimed at providing the student with experience of working as a team in a multi-crew environment such as that of an airliners flight deck. Most courses provide the student with plenty of simulator time, which can be logged and also includes plenty of class-room based training to ensure the theory is fully covered.
Whilst you are undertaking a undertaking Multi-Crew Cooperation course you are likely to learn about flight deck management, standard operating procedures or SOPs for short, and flight safety. The MCC course covers standard operating procedures during the different flight conditions you may face, including standard, non standard and emergency flights. The procedures will usually be covered in detail within a classroom environment before you put them into practice in the simulator.
Once you have completed the required training, you will be granted with a Multi-Crew Cooperation Course Certificate endorsed by EASA.
More recently, a newly developed recognised course has been developed called the APS-MCC which stands for Airline Pilot Standards Multi-Crew Cooperation course. Some airlines may now require this type of MCC before they will allow you to apply for a position. This course adds around 20 hours to the normal MCC course and includes a number of additional areas such as:
Advanced swept-wing jet aeroplane training;
Advanced airline operations scenario training;
A final assessment
So, what are the specific privileges of holding a MCC Certificate?
An MCC certificate provides the pilot with a number of extremely valuable simulator and multi-crew/team work hours within an airline environment. The MCC is a required certificate to be able to operate a Multi-Crew aircraft and subsequently any Corporate or Airline operators will stipulate the certificate as a requirement when applying for a position.
Is the certificate valid for life?
Yes the certificate is valid until the point you complete a type-rating.
How much does an MCC cost and also how much does the advanced APS-MCC cost?
Costs vary greatly between provider and the simulator being used. As an example, SFC offer a basic MCC for £2495 and Virtual Aviation of Cambridge offer an MCC course for £6900.