Licence Requirements & Privileges – PPL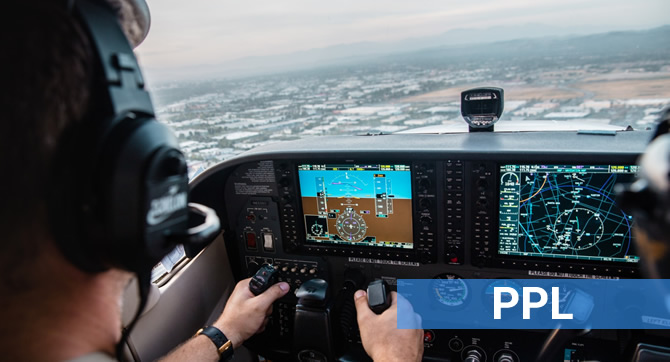 About the Private Pilot Licence
The EASA PPL, European Aviation Safety Agency Private Pilot Licence entitles the holder to fly EASA registered aeroplanes registered in the EU and non-EASA registered aircraft in the UK providing the holder has the correct ratings. However, as suggested in the title of the licence, it is a 'Private' licence and is purely for private flying only, not for commercial operations that lead to remuneration.
Privileges
A Private Pilot Licence will allow you the holder to act as the Pilot In Command (PIC) of a non-commercial aeroplane or touring motor glider (TMG).
There are a number of exceptions to the 'non-commercial' part of the privileges, whereby the holder can be paid for the following:
Flight Instruction
Conducting Skills Tests & Proficiency Checks for the LAPL(A) or PPL(A) and any associated ratings and endorsements.
Requirements For Issue
Minimum age for aeroplanes & helicopters 17
Before applying you must have:
Completed a training course at an Approved Training Organisation (ATO) or a DTO (Declared Training Organisation) which should include the following:

25 hours or dual instruction
10 hours of supervised solo flight time, including 5 hours of solo cross country flight as a minimum and one cross country flight of at least 150NM with full stop landings at TWO different aerodromes (aside from the departure airfield)

Passed 9 theoretical examinations:

Air Law
Aircraft General Knowledge
Flight Planning & Performance
Human Performance & Limitations
Meteorology
Navigation
Operational Procedures
Principles of Flight
Communications

Fulfilled the requirements for the class or type rating for the aircraft used in the skill test
EU Class Two Medical Certificate (More Details Here)
Skills Test pass with an approved CAA Examiner (list of examiners here)
If you already hold a LAPL(A) then you must complete the following training (which is less than that detailed above for a first time applicant):
At least 15 hours of flight time on aeroplanes after the issue of the LAPL (A), of which at least 10 hours should be flight instruction at an ATO.
This flight instruction must include 4 hours of supervised solo flight, of which at least 2 hours must be solo cross country, with at least 1 cross country flight of 270km (150NM) or more, plus full stop landings at 2 aerodromes different from the departure airfield.
Currency Requirements
Your EASA PPL is valid for lifetime as long as you hold a valid medical certificate. Along with your licence however, you will hold a class rating, such as a Single-Engine Piston Rating, which has different currency requirements, more of which can be found here.
What can I add to a Private Pilot Licence?
Single-Engine Piston Rating
Multi-Engine Piston Rating
Night Rating
Instrument Rating
Instructor Rating
Aerobatics Rating