Licence Requirements & Privileges – LAPL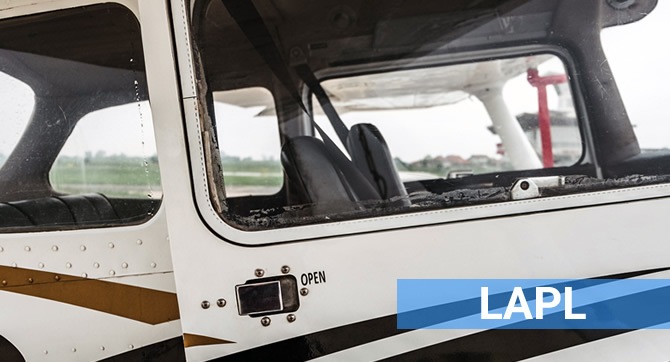 About Light Aircraft Pilot Licence
The LAPL (Light Aircraft Pilot Licence) enables the holder to act as the pilot in command of a single-engine piston light aircraft with a maximum take-off mass of 2,000kg or less, carrying a maximum of 3 passengers. A LAPL holder will fly non-commercial operations, and must not be paid for flying.
Privileges
A Light Aircraft Pilot Licence will allow you to act as the Pilot In Command (PIC) on two different class types of aircraft, a Single-Engine Piston Aeroplane or a Touring Motor Glider (TMG) that has a Maximum Take-Off Mass of 2000kg or less. You will be allowed to carry a maximum of 3 passengers meaning no more than 4 people on board the aircraft at any one time.
You will initially be restricted to flying the class and variant of aircraft you pass your Skill Test in until you carry out further training to fly a different class. A different class may be an aircraft with a constant speed propeller or a retractable undercarriage, for example.
After passing your Skills Test and receiving your licence from the CAA, you will need to complete 10 hours of flight time as Pilot in Command before you will be able to carry passengers as per the above restriction.
Requirements For Issue
Minimum age for aeroplanes & helicopters 17
Before applying you must have:
Completed a training course at an Approved Training Organisation (ATO) or a DTO (Declared Training Organisation) to include:

30 Hours of Instruction including:

15 hours of dual instruction
6 hours of supervised solo flight including at least 3 hours of solo cross-country flight time with one flight of at least 150NM which must include 1 full stop landing at an airfield other than the departure point.

Passed 9 theoretical examinations:

Air law
Human performance
Meteorology
Communications
Principles of flight

Navigation
Flight performance and planning
Aircraft general knowledge
Operational procedures

Medical Certificate (More Details Here)
Skills Test pass with an approved CAA Examiner
To extend your licence privildges to another class or variant you will need the following:
Different class (either SEP or TMG):
3 hours of flight instruction, including:

10 take-offs and landings under instruction; and
10 supervised solo take-offs and landings.

A skill test to demonstrate adequate competency in the new class, during which you will also need to demonstrate an adequate level of theoretical knowledge for the class in the following subjects:

Operational procedures
Flight performance and planning
Aircraft general knowledge
To extend the privileges of a LAPL to include more complex variants of the class of aircraft in which you took your skill test, you will need to complete differences or familiarisation training, which will then be entered into your log book and countersigned by the instructor.
Currency Requirements
The privilidges of your Light Aircraft Pilot Licence will only remain valid if you have completed the following in the last 24 months as Pilot In Command:
At least 12 hours flight time as PIC, including 12 take-offs and landings; and
Refresher training of at least 1 hour of total flight time with an instructor.
If you do not meet these requirements you will need to carry out ONE the following:
Undertake a proficiency check with an examiner before you resume the privileges of the licence; or
Complete the additional flight time or take-offs and landings to meet the requirements above, flying dual or solo, under the supervision of an instructor.