Global Commercial Pilot Shortage. Is It Real?
We've all heard it recently, in fact, industry 'experts' have been predicting it for years, but has the time actually arrived where by we are actually experiencing a pilot shortage?
I think back to 2008, at the time I was working in a small flying school 'up North'. I was just starting the long journey to becoming a commercial pilot and I clearly remember many rainy days spent scouring the job markets, looking for any glimmer of hope of a job at the end of the journey I was embarking on. No such luck. The UK was in the midst of a recession, I sat alongside 4 or 5 instructors, being paid very little for their services, all looking for their big break. It was a long time coming.
There's an old saying in aviation; 'the industry works on a cycle', some have researched further and suggest it's a seven year cycle. With this in mind, the years 2008 & 2009 were certainly heading towards the bottom of this cycle, the upward trend would not begin until around 2011/2012, meaning 2019 would be the peak of this cycle and a quick look around various airline vacancy websites would confirm this. The demand for pilots at present is the highest it's been for many a year.
Boeing's Pilot Outlook
Boeing recently published their 2018 – 2037 pilot outlook and the numbers involved are simply staggering. Boeing predicts that demand for pilots over the next 20 years will rise to 790,000 worldwide. That's an average requirement of 39,500 pilots per year. Boeing says that the revised 2018 outlook is the highest it's seen over the last nine-years of forecasting demand. The forecast is almost double the current workforce.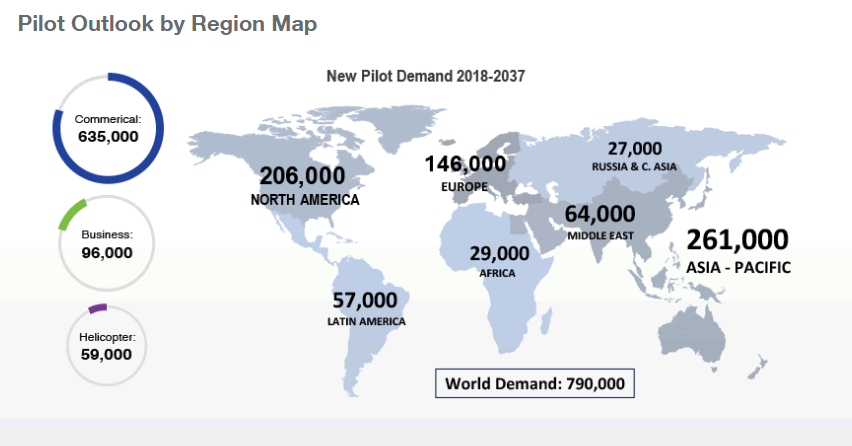 So why are we seeing this extreme demand and why are we facing a shortage? Well, it's a combination from both ends of the industry. Firstly, the aviation and particularly the airline industry for many years have been driving down costs, 'the race to the bottom' as it has often been coined and the advent of low-cost budget airlines, both short-haul and long-haul, has resulted in longer working hours, lower wages and un-healthier, un-sustainable lifestyles. That combined with the increasing cost of flight training post 9/11 have turned flying for a living into a not so appealing option for a new-generation of young adults, where a career in technology, with Michelin Star free-food, break-out rooms, arcade games and flexible working hours is far more appealing. Secondly, the airline industry, as a result of driving down these costs along with other overheads such as fuel, taxes and landing charges, is expanding at a rate never seen before. Why? Because it's become available to all. With the likes of Ryanair and easyJet offering return flights for as little as £9.99, the industry is expanding at an extreme rate of knots.
Will something give?
Something has got to give however, and so it seems it finally is. Ryanair last year announced that after a series of cancellations due to unprecedented crew shortages, that new recruits will be given the option to no longer pay the €29,000 upfront for a type-rating, but instead pay a lesser commitment fee of around €5000 and the airline will use the traditional method of training and retaining pilots, bonding. A quick browse around the recruitment websites and I see job vacancies for Ryanair, easyJet, Jet2.com, Thomas Cook, TUI Airways UK, Flybe, Aer Lingus, British Airways, Wizz Air, Blue Air and a multitude of Middle East and Far East Airlines, the numbers of which haven't been seen for decades.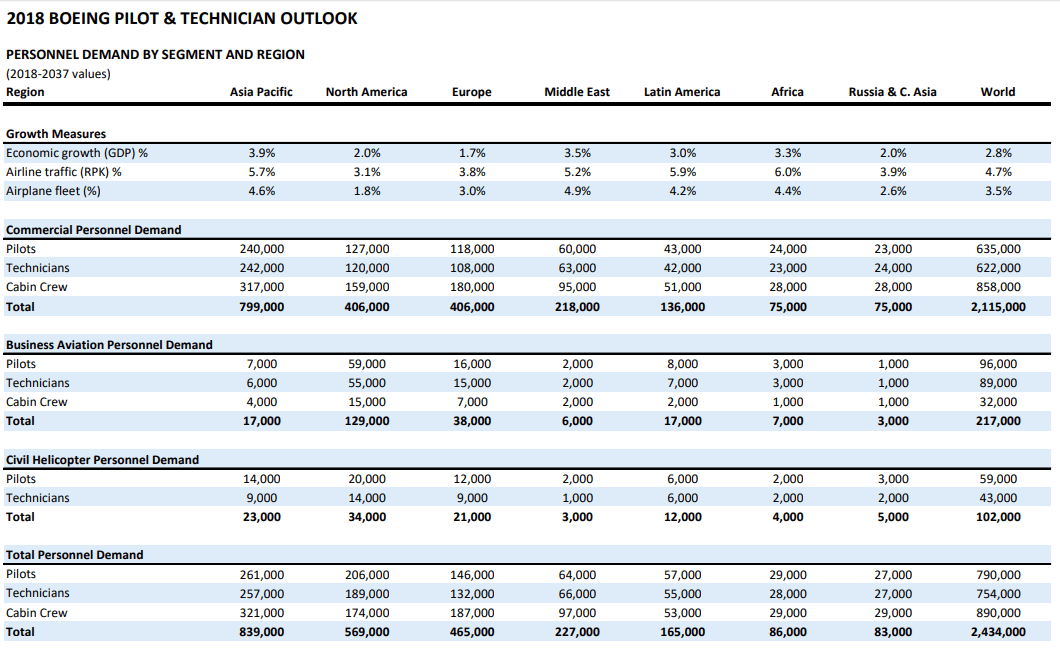 The need for pilots is fuelling the change to pilot working conditions, with so many jobs available, more and more crew are electing to move between airlines, meaning companies are having to look to ways of retaining crew which may be through pay rises (above inflation!), increased pension contributions, better rostering practices and a multitude of optional part-time and increased leave schemes.
How does this affect trainees?
What does all this mean for the training industry and those of you looking to take the leap into the unknown and embark on your commercial pilot training? Well, with the industry booming and airlines having to find more ways to recruit pilots, it's only a matter of time before we see a large increase in sponsorship and cadet schemes. Not the likes that we have seen over the last 6-10 years, where by a large sum of cash needs to be found by re-mortgaging or securing a property, but a return to the traditional way of training new recruits. A course fully funded by the airline and a reasonable bond, with a slightly reduced salary in place for the following three to five years.
It's a great time to be looking to the commercial pilot sector at the moment, and even despite Brexit looming, airlines are still (slightly more pessimistically) predicting growth and demand and as long as that growth and demand remains, there will be jobs for us all and Boeing's predicted 760 new pilots per week will need to be trained and employed, hopefully on ever increasing terms and conditions. The time has come for Airlines to invest in their future through their pilots.
All views expressed here are that of the article author.
Graphics and data from Boeing 2018 Pilot & Technician Outlook