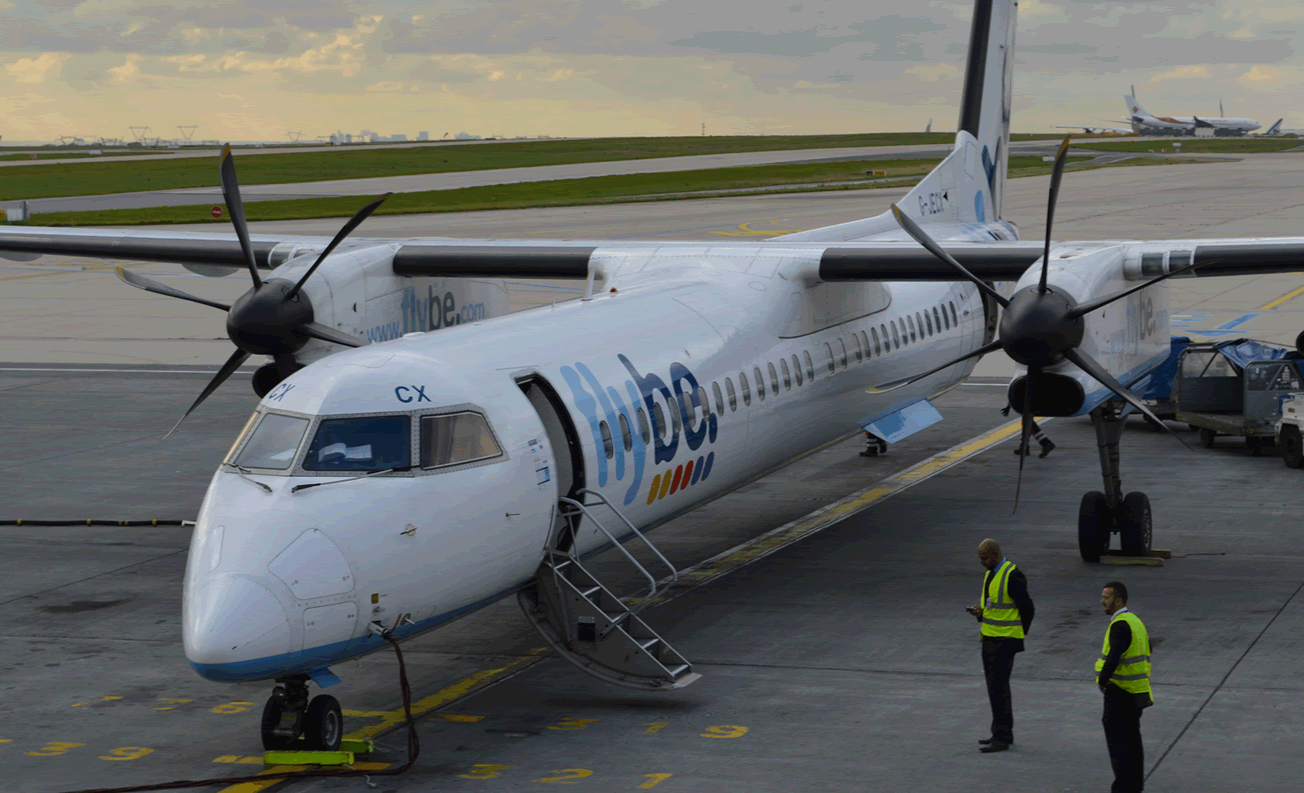 This scheme is currently CLOSED.
Flybe Pilot Training Programme
Partner Schools:
How much will this cost me?
The funding required for the complete CTC WINGS MPL Route in partnership with Flybe is £94,800.
CAE Oxford and FTEJerez will announce course cost if and when the course re-opens.
What is the programme?
This MPL programme was the first of it's kind in the United Kingdom, launched in 2009. It was designed to produce high quality First Officers who could immediately, on completion of required training, move into the right-seat of a Flybe Dash 8 Q400 aircraft.
The programme is a competency based course where the student is consistently monitored and assesed against a clearly laid out set of competencies at each stage of training. The course specifically incorporates airline specific Standard Operating Procedures and concepts of Crew Resource Management and Threat and Error Management from day one in training.
How the programme is structured:
The three training providers offered slightly differing time-scales and course structures, but below is the general flow of the course:
Stage 1 (1 Day)
Application and selection process
A comprehensive selection process with a conditional job offer from Flybe if successful.
Stage 2 ( Approx 26 Weeks)
MPL / ATPL Theoretical knowledge training
Classroom and iPad/computer-based
Stage 3 (Approx 22 Weeks)
Aircraft flight training
Single-engine piston aircraft, NZ
The Core flying phase of the MPL syllabus is designed from the outset to build the Knowledge, Skills and Attitudes (KSAs) that are the cornerstones of an airline safety culture and differentiate it from traditional single pilot flight training offered on other courses. Training is airline focused and competency-based from day one. Flying the EFIS C172/DA42, you'll learn the fundamentals of visual flying, basic and procedural instrument flying and night flying, and conduct Upset Prevention and Recovery Training (UPRT) on a high performance piston engine aircraft.
Stage 4 (Approx 11 Weeks)
Multi-pilot flight training
Experiencing a multi-pilot environment for the first time, we introduce you to jet operations for your instrument flight training using Flybe's Standard Operating Procedures (SOPs). An Initial Crew Resource Management (CRM) course covers Threat and Error Management training (TEM) and your Basic phase concludes with Line Oriented Flight Training (LOFT) and Upset Prevention and Recovery Training (UPRT).
Stage 5 (Approx 7 Weeks)
Intermediate Multi-pilot training
This phase will develop your advanced handling skills on jet simulators using a version of Flybe SOPs. LOFT covers more complex scenarios, TEM training is further developed and you will complete the intermediate phase with advanced UPRT.
Stage 6 (Approx 8 Weeks)
Airline type specific training
Dash-8 Q400 aircraft with Flybe, UK
The Advanced phase in MPL is akin to Type Rating training. You will now move onto the Dash-8 Q400 and, using Flybe's full airline SOPs, you will learn to handle more complex system failures and emergencies in readiness for your Licence Skills Test (LST).
Stage 7 (Approx 10 Weeks)
Flybe line training
Line Flying UK and Europe with Flybe
Line Oriented Experience (LOE) and Line Check. You will also complete Safety, Emergency and Procedures training (SEP) Employment as a Dash-8 Q400 co-pilot with Flybe.
Successful graduation from this MPL Route will provide you with:
A Multi-crew Pilot Licence on Dash-8 Q400 aircraft
MPL/ATPL Theoretical Knowledge and examination passes
Dash-8 Q400 Aircraft Type Rating
What you will need to apply:
General Minimum Requirements
Be at least 18 years of age to commence training have the unrestricted right to live and work in the EEA and Switzerland
5 GCSEs at Grade C or above including Maths, English and a Science (single or dual award) AND either 2 A-Levels or academic equivalents at Grade C or above OR An Honours Degree at 2:2 or higher (also acceptable will be higher degrees such as Masters or Doctorate). Also acceptable are vocational equivalents*
Be fluent in English (verbal and written)**
Produce a CRC (Criminal Record Check) Basic Disclosure Certificate before training can commence
Be able to obtain a UK CAA Class 1 medical examination prior to commencement of training
Minimum height 5'2" (157cm) , maximum height 6'3' (191cm)
*see naric.org.uk for international academic comparisons
** For non-native English speakers, you will be required to present a certificate prior to training commencement demonstrating you have achieved International English Language Testing System (IELTS) Level 5.5 overall, with no less than 5.5 in any individual area (Reading, Writing, Listening and Speaking. (This must be the Academic test, not General Training).
Financing the course:
Again, each training provider differs with their financing options, however below is a general overview:
Training Loans
Subject to bank lending criteria, applicants may be eligible to apply for pilot loan funding.
Additional Fees
Food and living expenses
Selection fees
EASA Class 1 medical fee – EASA scale of charges
Travel and medical insurance
Insurances to protect life, finance, personal property and training expenses
What Is Generally Included
All training, equipment, uniform and airfield fees
Self-catered accommodation for all phases of training
Air travel to any training facilities outside of the UK
All CAA exam and skills test fees – initial (and retakes if required)
EASA MPL Licence issue fee