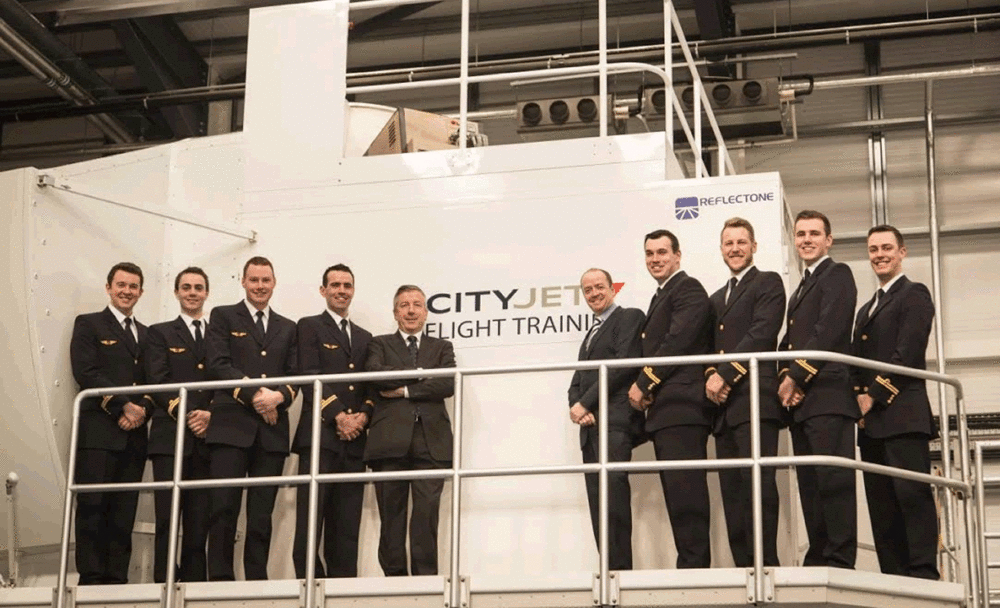 This scheme is currently OPEN
CityJet High Mentored Cadet Programme
Partner Schools:
How much will this cost me?
This CityJet course includes the following features: CAE Oxford Aviation Academy Skills Plus Guarantee, a Degree in Air Transport Management, First Officer Fundamentals, Upset Prevention & Recovery training, CAE accommodation at Oxford & Phoenix, uniform, books, equipment, travel insurance, visa fees and return flights from the UK to Phoenix. Also included is a CityJet type-rating. The total cost is €107,000. (Circa £92,300 @ March 2017.)
What is the programme?
The design for the Climb High Mentored Cadet Programme is split into two primary stages:
Integrated ATPL Training Course with CAE Oxford Aviation Academy
Type Rating Training Course with CityJet Flight Training sponsored by the airline
How the programme is structured:
Phase
Hours
Weeks
Location
Ground Training
750 Hours Classroom & CBT
26 Weeks
Oxford
First Officer Fundamentals Flight Safety
20 Hours
1 Week
Oxford
Single Pilot – CPL Foundation Flight Training
10 Hours FNPTII Simulator
12.15 Hours Multi Engine Aircraft
120.15 Hours Single Engine Aircraft
2.5 Hours Skills Test
22 Weeks
Phoenix
Upset Prevention & Recovery Training
3 Hours
2 Days
Phoenix
First Officer Fundamentals Airline Preparation
20 Hours
1 Week
Oxford
Single Pilot – Advanced Instrument Flight Training
30 Hours FNPTII
22.45 Hour Multi Engine Aircraft
2.5 Hours Skills Test
13 Weeks
Oxford
Multi-Crew Co-Operation / Jet Orientation Course
36 Hours Jet Simulator
3 Weeks
Oxford
Total
239.15 Hours
66 Training Weeks
What you will need to apply?
CityJet are involved in the recruitment process.
Over 18 years of age
Entitled to reside and work in the European Union
Free from any criminal record
No piercings or tattoos
You must have no more than a PPL licence or 100 hours of flying experience
Must Obtain a UK CAA issued EASA Class 1 Medical Certificate prior to commencement*
Able to fund the full cost of the initial CAE OAA training course
Fluent in the English language with the potential to qualify at ICAO level 6
In possession of the following minimum educational qualifications:

Ireland
School Leaving Certificate with 6 subjects including mathematics, English and a science subject, with a minimum of D1 in higher mathematics, or B3 in Ordinary math's, with a C3 or higher in 3 honour subjects.
or
An Honour Degree above 3.0 or a pass or higher award in a higher degree such as MSc, MA, MPhil, DPhil, PhD, MBA.
United Kingdom
5 GCSEs at Grade C or above, including English Language, Mathematics and a Science (single or double award), excluding General Studies.
plus
Either 3 A-Levels at Grades BCC or above, excluding General Studies and Critical thinking.
or
An Honours Degree above 3.0 or a pass or higher in a higher degree such as MSc, MA, MPhil, DPhil, PhD, MBA.
Other Countries
Candidates must demonstrate that they can meet the equivalent of the minimum educational standard required of Irish educated candidates.
* Applicants who already possess an Class 1 Medical Certificate from an EASA member state besides the UK may start the course, but must move their Medical Records to the UK CAA before course completion. This is because their license will be issued by the UK CAA and EASA regulations require a pilot's Medical Certificate and Medical Examination Records to be held by the same member state that issues the pilot's license.
Financing the course
Successful applicants may access a bespoke loan scheme operated by BBVA – one of the largest banking and financial services providers in the world. The loan scheme is specially designed to meet the needs of student pilots undertaking our CityJet Climb High Mentored Programme.
The CAE Oxford Aviation Academy/BBVA scheme alleviates the pressure of financial concerns during training, allowing students to focus their efforts on achieving the best possible results.
Find out more about the cost of flying and how a BBVA loan works on our site.
Download the BBVA bank loan scheme UK brochure for more information.
For more information and to find out how to apply visit CAE Oxford Aviation Academy website