Flight Bag Essentials: 10 Things every pilot should have in their bag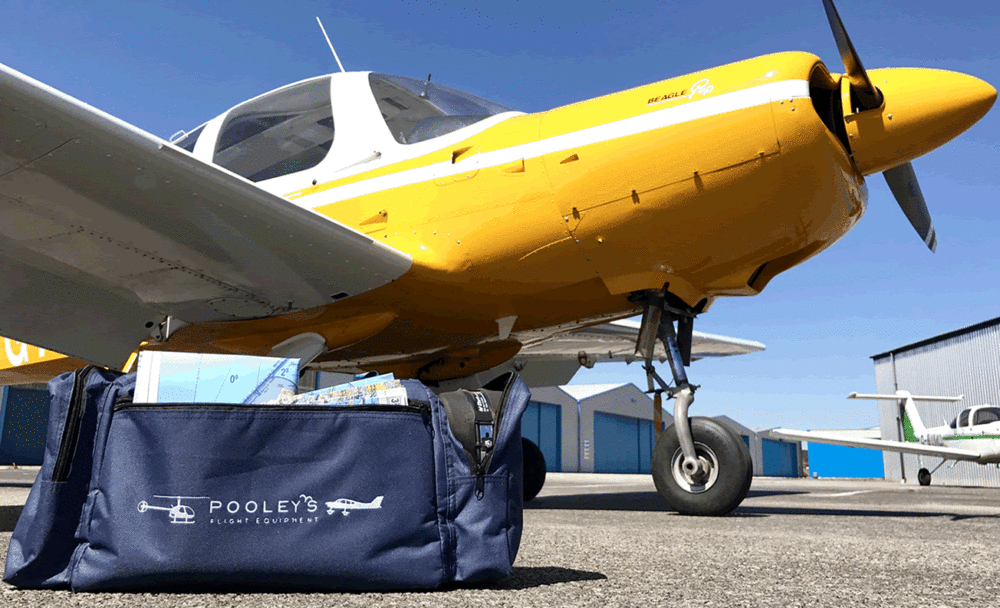 Have you ever looked into your flight bag before a flight and wondered if you have everything? In this article, we'll round up those essential pieces of kit that will make your life easier at 2,000ft and make sure you've got everything you're going to need next time you're flying on a sunny Sunday afternoon.
The Headset
I think it would be fair to say that the first and most obvious item in your flight bag that you're going to need is a headset. But its true that a headset hasn't always been used throughout aviation history. And still, to this day some pilots choose to substitute the  use of a headset with a hand held microphone and a built-in cockpit speaker. Of course, its not so common for a light aircraft to come equipped with a speaker (or a working one at least!) and as such, it places more emphasis on the word 'essential'. Now, when considering what headset to buy, you should consider the two following factors:
Comfort and Fit
Clarity of Sound
The comfort and fit of any headset will vary and is personal to the user. A customer review on the internet may give you an idea, but ultimately you won't know what works for you until its sitting on your head. The best way to try a few different types is to go to your local flying school or club and ask around, see if someone will allow you to try theirs on or alternatively, find your local supplier and head down to their shop. Most reputable aviation suppliers, such as Transair and Flightstore will have a number of headsets available to try, often with the ability to plug them in to some sample sounds..
When considering the clarity of the sound that you'll hear from your new headset, you must first be aware that there are two types of noise cancelling. The first and cheaper type is Passive Noise Reduction or PNR. This simply works by two methods, firstly, the headset contains foam, which absorbs some noise and secondly the seal created by the cups of the headset surrounding your ears, blocks out the background noise created by the engine and airflow sounds. These type of headsets rely on a 'clamp' style method, the headset will cover all of the ear and will be 'clamped' to the wearers head, to avoid any gaps. This can for some people make PNR headsets rather uncomfortable.
The second and by far the more effective method is Active Noise Reduction or ANR, which uses advancements in modern technology to block out a lot of the sound you may hear. A tiny microphone within the headset listens to outside sounds, then using electronics, mirrors the sound and then adds it to the original sound, the two sounds combined will cancel one another out, leaving silence. ANR headsets will only cancel out low frequency sound, meaning any engine changes or speech is not cancelled.The main advantage of active noise cancelling is a reduction in the fatigue, both mental and physical, you may experience when using a passive noise cancelling headset as most ANR headsets are far lighter and more comfortable to wear as there is no need for the clamping that a PNR headset needs. However, with all that said, headsets using active noise cancelling technology come with a hefty price tag. So, ultimately, it all comes down to how deep your pockets are!
There is one brand that stands above the rest when it comes to passive or PNR style aviation headsets. David Clark having been producing noise-attenuating headsets since 1975 and are the number one choice for general aviation and commercial pilots a like. Their famous green domes are synonymous with quality. If you're a new student pilot or not looking to break the bank on your first headset, eBay or Amazon can be a great place to look for a second hand David Clark headset. Replacement ear seals, head pads and the like are readily available, both online and at your local flying clubs.
If you fancy splashing the cash and want to invest in an Active Noise Reduction headset then the industry-leading Bose A20 headset is a good choice, but comes with a very hefty price tag of £999,00, which may be better spent when learning to fly.
The Kneeboard
A kneeboard, on first thought, may not be the most obvious or important piece of kit in your flying bag. But a good kneeboard is worth its weight in gold to any student or qualified pilot. The last thing you want to happen is for your pen to drop onto the floor during a flight. The ensuing scramble to find it could cause, at the very least, you to stray from your heading and at the very worst, any number of safety issues. One thing to take note of when looking at buying a kneeboard is its size and weight. The cheaper kneeboards may be quite small and leightweight, which means you won't fit much onto it, but does make it less cumbersome in the cockpit. The larger kneeboards are great for making notes and storing charts and flight computers, but may get in the way of your flight controls, which is obviously a big no!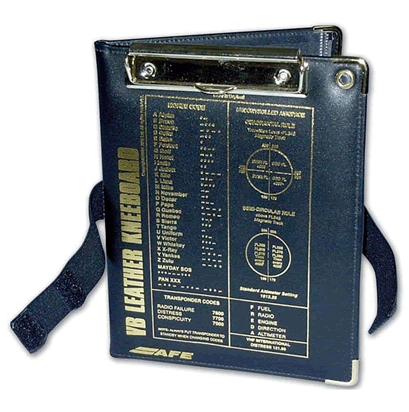 The quality and features of a kneeboard comes down to your budget and how much of it your willing to spend. At one end of the spectrum, a cheap kneeboard will only have a small clip to keep your notes and may not even come with a Velcro strap to keep it attached to your leg during flight, but will only cost £12-£15. At the other end of the spectrum, your more expensive kneeboards will come with a notes clip, a number of pen holders, a number of pockets for small books or maps and even a flight computer holder. But, you can pay a premium, up to as much as £30-£35.
We would recommend looking at the range of kneeboards that Pooleys Flight Equipment have on offer. Pooleys are a globally recognised supplier within the aviation industry, having been established in 1957. Pooleys offer a great range of kneeboards that represent the best value for money for all budgets.
The Aeronautical Chart could be seen as obsolete by some in the industry with the ever increasing use of the tablets and applications like Sky Demon. But what you must remember is, learning how to read a chart and plot your route is an invaluable skill that, once you get it right, can't be taken away from you. Navigation by smart phone or tablet applications is reliant on both the battery life and the availability of a strong signal to your GPS receiver and results in a 'heads-down' cockpit, which can result in a reduced awareness of what is going on around the aircraft, adverse weather can inadvertently be encountered as well as other aircraft and ultimately a general loss of situational awareness. The other disadvantage of all this technology is the cost, which will run into the hundreds of pounds, depending on the products you use.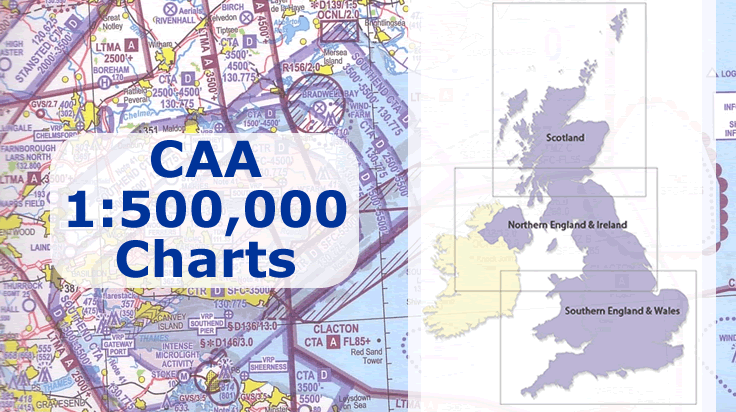 Our recommendation for your flight bag is the CAA 1:500 000 charts for navigating in the UK. These are supplied in three charts, Southern England and Wales, Northern England & Ireland and Scotland. The charts are priced at around £16.00 each and can be bought at your local flying school, as well as many online flight suppliers. New editions of each chart are published twice per year, so always make sure that you are buying the most up-to-date chart. The changes from the previous chart may be small, but could be very important to you and your local area.
We would also recommend that you have a pack of Staedtler Lumocolour Chart Pens for plotting your route, as well as a navigation ruler, protractor and a digital stopwatch.
You can source all of the items that we have mentioned from Transair (Link – www.transair.co.uk).
The Walk Around 
Throughout the many years that you will spend flying, it is likely that you will fly a variety of different aircraft, possibly in different countries. On occasions, it is likely that you will hire an aircraft that doesn't have a fuel strainer or tester in the cockpit. If an aircraft spends a lot of its time living outside, exposed to the elements, there is a chance that the fuel in the tanks may become contaminated with water. A test of the aircraft's fuel is a very important part of any pilots walk around and this can only be properly performed with a fuel tester.
For a good quality Fuel Tester, we would recommend the ASA Standard Fuel Tester from Transair, priced at £10.99.
Your walk around can and will take place at different times of day, during different times of the year and in different weather conditions. A consequence of this is that the lighting conditions can and will be different from one walk around to another. That is why it is important that you carry a torch in your flight bag. Torches can come in many different shapes and sizes, but ideally you want a small, lightweight torch that doesn't get in your way when you're trying to perform a task. You may also view this torch as a back-up, in case the interior light becomes un-serviceable during a night flight. For this purpose, you may want to purchase a head torch or a torch on an arm with a clip. But remember, you should not see this as a direct replacement for the interior light and only as an emergency back up! And please, take a spare set of batteries, or even a spare torch!
A great range of torches can be found on Amazon.
The Safety Part
At many airfields in the United Kingdom and across the world, it is mandatory for air crews to wear an item of high visibility clothing whilst air side. This tends to be at larger airfields, usually where there is a mix of both commercial and general aviation traffic. You will also visit many smaller, more general aviation focused airfields where high visibility clothing isn't required (sometimes frowned upon!). In any case, it makes for good practise for you to carry an item of hi-vis clothing in your flight bag. This can be a simple High Visibility Waistcoat, which can be supplied by your local flying club, or from Amazon for around £2.00 – £5.00.
If you haven't got yourself a medical by now, you'll soon find out that a part of the medical is to check your hearing. Throughout your career in aviation, you should be constantly conscious of your health and general well-being and your hearing is no different. This is why we recommend that you carry a set of ear defenders or ear plugs in your flight bag for those times when another aircraft may well be taxiing in or out whilst you're completing your walk-around, or even completing engine-runs, airfields can be very noise places.
There are two styles of ear defenders that you can go for. You can either go for a pair of ear cups with a headband. We recommend 3M Peltor for this, a pair of which can be bought for around £30.00 from Transair. Or you can go for a pair of disposable ear plugs, which are always a much cheaper option in the short term, but will obviously have to be regularly replaced. Take a look at the E.A.R Classic Ear Plugs available on FlightStorefor around £0.75!
You may have been inspired to take up flying because your favourite film is that 1986 classic staring Tom Cruise. You don your aviator style sunglasses as you walk towards your own version of the F-14 Tomcat, a PA-38 Tomahawk. But all jokes aside, a good pair of sunglasses can make all the difference on a sunny days flying. The glare from the sun cannot only impair your view out of the window, but also effect how well you can read the instruments and charts in front of you and as we talked about early, can protect your eyes from damaging UV light.

Unfortunately with sunglasses, the rule tends to be, the more you pay, the better quality you will get. Although you must also keep in mind that you will also pay a premium for the better known brands, like Ray-Ban. A good quality frame will provide the glasses with a good level of durability. While a good quality lens will prevent the effects of the suns rays effecting your sight. So do your research, head to the shops and try a few pairs on before you make your final decision, as with a headset, comfort is paramount as you could be wearing these for a long spell, with a headset clamping them to your head. We recommend a set with thin arms, to avoid having the shape of the glass imprinted in to the side of your head by your headset!  A good pair, if you look after them, will last you a life time!
It is also sensible to ensure that your mobile phone has plenty of charge in it. In the event of an emergency, help may be only one phone call away. Or if you divert to previously unplanned destination, you will need to let your original destination airfield where you have diverted to and may even need to arrange a lift home or a taxi.
The Pen
Yes, of course, the pen. Make sure you take a pen, any pen, any colour, any size, any make. And take a back up pen as well, and maybe even a back-up back-up! It can be quite hard work remembering an entire ATIS because you can't find your pen (usually down the side of the seat).
Article written by Darren Williams – ToBeAPilot.co.uk