Zero to ATPL. Ok, so you are probably wondering what an ATPL is right? An ATPL is short for an Airline Transport Pilot Licence, which is essentially the bare requirement to fly for an airline or a charter company. An ATPL comprises of a number of licences and ratings, all of which are explained in detail below. When you are first issued an Airline Transport Pilot Licence, it will be known as a (f)ATPL, with the (f) standing for 'frozen.' This is because you will have not met a certain 'experience' requirement set out by the CAA, that's the Civil Aviation Authority, to have an un-frozen licence, which enables you to command, or in most case, be captain of an aircraft, except in some circumstances.
Below is a 'flow-diagram' of the process from zero hours through to the granting of a (f)ATPL, click on each part to jump to the relevant section below.
Zero to Airline Pilot: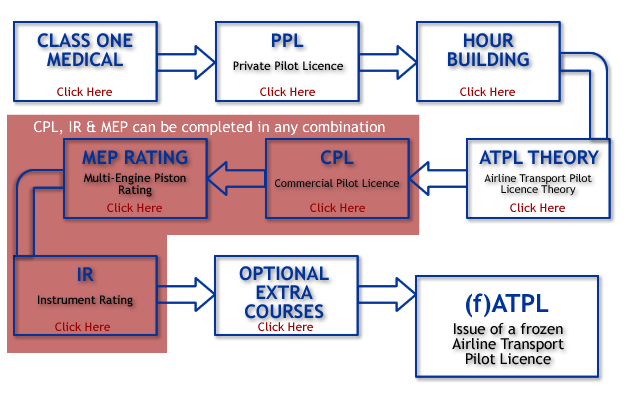 Class One Medical
If you are embarking on professional pilot training, or may consider it in the near future, we recommend getting a medical (class one) done as soon as possible.  This medical is a requirement for any person undergoing any form of professional training.
So, taking into account that you are just starting out with your training, we presume you have not had a medical examination before, this means you will need to book in for an INITIAL medical examination.  This initial examination, is probably far more in-depth than anything you have had before and is carried out down in Gatwick at 'Aviation House,' HQ of the Civil Aviation Authority.  The initial medical examination will last around half a day and involves many tests being carried out as well as a thorough check of your medical history.
The medical itself is not cheap and costs £330, however it is a small price to pay to ensure that you are not about to shell out thousands of pounds on training to find out you have a restricting medical problem.
For more details on medicals, head over to our medical section, click here.
Private Pilot Licence
A Private Pilot's Licence (PPL) is a licence that allows you to fly single engine aircraft with passengers. The PPL however, does not allow you to fly for reward.
The PPL is the first step on the ladder for all pilots, whether you want to be an airline pilot or just fly with family and friends for fun. There are a number of requirements to gain a PPL. These requirements are explained in more detail in our Private Pilot Licence section which can be accessed by clicking here. During you PPL or the subsequent Hour Building phase, you will be required to complete a Night Qualification which consists of 5 hours flying with a suitable instructor during darkness. This must be completed before commencing CPL training.
Hour Building
Hour building consist of building up a certain number of hours to start commercial flight training. This varies but is generally around 150 total hours, of which 50 hours is usually covered within your PPL. Of the 150 hours, 100 must be as PIC, which stands for Pilot In Command, meaning flights where you were the pilot. Many people opt to travel abroad to complete this phase of training, to cut costs and often to make use of the hours needed and explore new places or enjoy a flying vacation.
Hour building varies greatly in cost, it would be difficult to put a specific cost, however it is the full 100 hours that is needed, so multiply this by an hourly rate, add £1000 for landing fees and you will have a rough idea. Find out more here.
Airline Transport Pilot Licence Theory
This, for many people is the hardest part of the training, the theory. You will be required to pass all 14 examinations, which are all multiple choice. The learning phase of this can be completed as a distant learning course or as a full-time or part-time classroom based course.
The three following licences/ratings can be completed in different orders, we have used the CPL-Multi-IR route as an example:
Commercial Pilot Licence
A commercial pilots licence consists of more advanced training than the private pilots licence. By completing 25 hours of training, you will be granted a CPL which means you are then able to fly for reward However, before airlines will consider you, you will need to have a valid instrument rating alongside your CPL.
A Commercial Pilot Licence will set you back between £4000 and £6000 dependant upon where you decide to complete it. For more information on a Commercial Pilot Licence, visit our CPL section by visiting here.
Multi-Engine Rating
A multi-engine rating allows you to fly aircraft with more than one engine. This training consists of a minimum of 6 hours training in a twin-engine aircraft. Also you will be required to complete between 5 and 10 hours of ground tuition.
Depending again on where you complete a multi-engine rating, expect to spend between £2000 and £4000, this varies from school to school and also depends on what aircraft type you will be doing your training. Click here for more details.
Instrument Rating
An instrument rating is a requirement by all airlines and gives the holder the privilege to fly not only in poor weather conditions with sole reference to the aircraft instruments, but to also fly within airways.
An instrument rating course requires you to complete 55 hours of flight training of which some of this time is usually, or can be done in an approved simulator, which most certified schools have access to. You should budget, depending on which aircraft and the location of the school, between £12000 and £15000 for an instrument rating course. This cost usually doesn't include other fees, such as landing and approach fees. Find out more by clicking here.
Multi-Crew Course & Jet Orientation Course
A Multi Crew Cooperation course not only gives you valuable experience of working as a team in the cockpit, but also builds up your simulator experience as MCC courses are often completed on jet-type simulators although this is not always the case.
Completing a multi-crew cooperation course will cost you approximately £2000 to £4500 depending on which simulator you chose to use.
A Jet Orientation Course is similar to an MCC course, however instead of multi-crew focus it is aimed at providing the student with valuable jet experience. This course varies in price from £500 to £2000 and can be done in many cases alongside the MCC course.
More information can be found here.
On completion of all the above ratings and licences as well as course, you will be granted with a frozen Airline Transport Pilot Licence providing you have met the stringent requirements. You are then able to apply for positions within airlines and charter companies.
Related Articles