CAE on behalf of Ryanair today announced the launch of the Ryanair Sponsored Cadet Programme, to take CPL/IR MCC holders to the right-hand seat of a Boeing 737-800/Max 200.
The announcement means that new Ryanair First Officers will no longer be required to pay the €29,500 type-rating cost up-front and will instead be asked to pay €5,000 with the remainder being covered by a five-year bond to the Irish low-cost carrier.
The Dublin-based airline also announced that unlike previous contract conditions, new cadets on the Ryanair Sponsored Cadet Programme will be paid from day one of their line-training on the aircraft. Pilot's were previously not paid until the third-pilot (safety pilot) was no longer required, typically after 10-16 sectors of flying.
The bond as previously mentioned will be in place until 5 years of employment and it will be a reducing bond, details of which haven't been fully published, but should reduce by up to €6,000 per year from start of employment.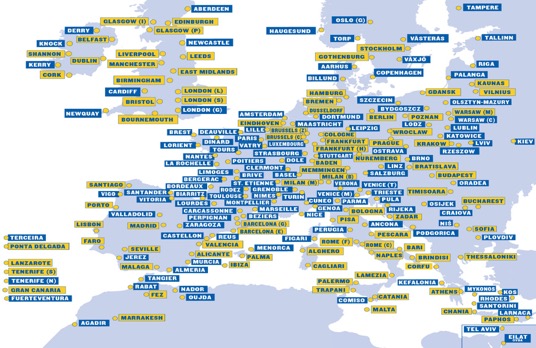 The airline has a network of over 80 bases across Europe and North Africa and the successful candidate can expect to be based at any one of these bases where operations require, and can expect to spend up to 2-3 years in this base before being moved to their preferred base.
The Ryanair Sponsored Cadet Programme – CAE advert goes on to say:
Reasons to become a Ryanair pilot:
Training paid by Ryanair
No upfront payment of €29,500
Salary from Day 1 of Line Training
Job security – Become part of one of the most successful airlines in the world
Fastest Time to Command – 3 or 4 years after Cadet Course!
Unrivalled career progression – opportunities for LTC, TRE, TRI, SFI & Base Captain
The best roster in the business; stable 5 on 4 off pattern
Guaranteed days off
No planned overnights and rosters published 4 weeks in advance
Great base opportunities available at many locations across the network
Outstanding Earnings Potential
New modern fleet – the fleet consists entirely of next generation Boeing 737-800s with an average age of five years, with Boeing 737 Max 200's arriving in 2019.
The Ryanair Sponsored Cadet Programme structure is very similar to the previous fully-paid for up-front course:

Phase 1: Six-day introduction course
Phase 2: Ground Training
Computer-based training on systems and equipment
Instructor support for CBT (CAE Simfinity®)
Stand-up instruction on performance, weight and balance
Fixed-base simulator sessions
Flight management system sessions
Standard operating procedure training
Pre-examination
Written theoretical knowledge examination including results and evaluation
Phase 3: Simulator Training
9 4-hour sessions per crew
1 crew skills test session per crew
1 preliminary simulator circuit training of 1 hour per trainee
4.Base and Line Training
After successful completion of the training qualification course, circuits will be flown on a Ryanair B737-800.
Line training will be provided by Ryanair from one of their many bases. The number of sectors varies with the experience level of the pilot. It is estimated that low-hours cadets will fly approximately 90 sectors per month.
Eligibility Criteria:
Valid EASA Frozen Airline Transport Pilot Licence (ATPL)
Valid multi-engine instrument rating
Certificate of satisfactory completion of multi-crew co-operation (MCC) in accordance with AMC1 FCL.735.A.
Applicants holding a CERTIFICATE OF COMPLETION OF APS MCC-TRAINING in accordance with AMC2 FCL.735.A
Will be given preference during selection
Will be at a distinct advantage in the interview and assessment process.
Flight crew license (theoretical ATPL with valid EASA CPL)
Valid EASA -FCL 3 Class 1 Medical
Technical knowledge and good level of English (Minimum required proficiency is Level 4)
Have the right to work freely within the European Union– applicants must be in possession of a EUROPEAN PASSPORT to proceed in the selection process, please note National ID cards cannot be accepted
FLIGHT SCHOOL REPORT signed by your Flight School's HOT (Head of Training). This applies to both Integrated and Modular students. This MUST contain ALL ATPL results (detailing any repeats), CPL & MEIR series passes, and information relating to your performance throughout training.
* Note: Pilots who currently do not have an MCC certificate or pilots who need refresher training due to lack of flight time, APS MCC courses are available and recommended.
Selection Criteria:
The selection procedure takes place in Dublin (Ireland). The day begins with an introduction to Ryanair and the recruitment team. Pilots can expect:
Pre-simulator briefing
Simulator assessment in a B737-800 simulator – 45 minutes as both pilot flying and PNF. Basic handling skills, CRM and flight management will be assessed
English language test
Technical assessment – 30 minutes assessing your technical knowledge on your current/previous aircraft type(s)
Personnel interview – Approximately 30 minutes to convince Ryanair of your suitability to join the team, and to prove that you are the sort of person who will thrive in an environment where hard work and effort are rewarded.
Those who emerge successfully from the selection process will be offered a place on a type-rating course at CAE Center Amsterdam or at East Midlands Training Center.
Within 7 working days after the selection day, applicants will be contacted by phone or e-mail with their assessment results, be it positive or negative.
Training Start Dates
Courses start weekly throughout the year for suitable candidates
Related Articles