In this article, I will take an in depth look at the online question and answers bank PPL Cruiser.
PPL Cruiser was created and is still maintained by Mark Lee, a flying instructor from the North East of England with many years of experience within the aviation industry. Question Banks are available for the 9 subjects that make up the EASA PPL (A) Ground School. Each Question Bank is made of an array of questions within the given subject area, along with 4 possible answers for you to chose from. There is a time limit to each exam, dependant on the subject. There is also a pass percentage mark given at the end of each exam, which you can also monitor during the exams.
PPL Cruiser have also included a question bank for those undertaking their IMC Rating and there are five question banks for those undertaking their EASA PPL (H) as well. As my review is based on experiences while using the nine EASA PPL (A) Question Banks, I will be disregarding the IMC and EASA PPL (H) Question Banks in the interest of fairness.
The Cost:
PPL Cruiser is a subscription based service, so the first question that many of you will be asking is 'how much is it?' Well, there are number of different options made available to suit different users in different phases of their training. I will always advise a student to begin revising for their ground school exams from day one, so the subscription option that I feel represents best value for money, in this case, is the 12 Month Subscription to all of the tests. This comes at a cost of £60.00, which I feel offers you the best value for your money. PPL Cruiser also offer you a 3 month subscription to all of the tests, but this is probably only of use to you if you plan on doing all the ground school exams very intensely, in a short space of time. The final option you're offered is to purchase each subject's question bank individually at a cost of £4.00 per subject for a 3 month period. A great option if you need to brush up in one area, or need a change of revision material. But I would not recommend this as a long term solution.
PPL Cruiser Features:
As well as question and answers, PPL Cruiser will also provide you with an explanation to the answer, whether you got the answer correct or incorrect, which I think was a great feature to include. It allows you, the user, to reinforce your learning. In my personal experience, the way the explanation is given on PPL Cruiser can often be worded differently to how it can be found in a text book. I often saw this as a positive as PPL Cruiser's method of explanation can be very simplistic. Meaning they don't strain themselves to use long, fancy words. It left me feeling confident in the moments leading up to me selecting an answer, positive that I'd understood the question properly.
An example of a PPL Cruiser question along with its explanation can be found below. It gives you a feel of the website's simple to use, honest layout.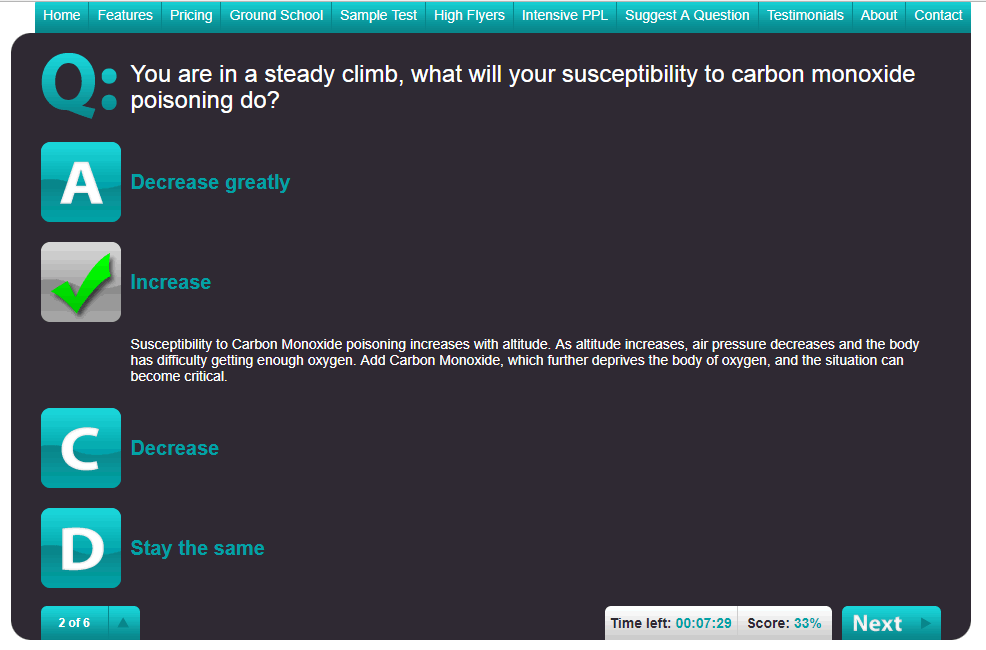 Question Bank Size:
The biggest downside I found, whilst using PPL Cruiser, was the repetition in questions that appear during the tests. When using PPL Cruiser, in the days leading up to an exam, I would continually complete multiple exams back to back. And on several occasions, I would see the same questions come up, sometimes in the same exam. Of course, we have to be understanding that it is impossible to have a never ending database of exam questions. But the frequency in which questions would repeat themselves would lead me to believe that either the database of questions wasn't quite expansive enough. If that is not the case, then the software that is used possibly doesn't separate the questions well enough. It left me feeling as though that particular test had been wasted as I'd gained an unfair advantage.
Summary:
So, to summarise. I really liked PPL Cruisers honest and straight forward design and layout. It makes navigation easy, while still being pleasing on the eye. They also haven't gone out their way to squeeze in excessively complex language into every sentence. I feel that PPL Cruiser have priced themselves really well in the market. They offer a number of subscription plans to suit students in every phase of their flying careers. But, and this is quite a large 'but', the apparent lack of questions in their database leads me to believe that PPL Cruiser cannot be a student's only pre-exam 'knowledge check' and perhaps is a hint as to why their service is so "well" priced. This does not, however, stop me recommending PPL Cruiser to students, but does mean there will be a 'but' every time I mention it to someone.
Subscriptions Available:
Buy all tests for a reduced rate
12 months
£60.00
Buy all tests for a reduced rate
3 months
£20.00
Operational Procedures
3 months
£4.00
Air Law
3 months
£4.00
Aircraft General
3 months
£4.00
Communications
3 months
£4.00
Flight Performance and Planning
3 months
£4.00
Human Performance and Limitations
3 months
£4.00
Meteorology
3 months
£4.00
Navigation
3 months
£4.00
Principles of Flight
3 months
£4.00
Proficiency Test
3 months
£4.00
The IMC Rating
3 months
£4.00
Helicopter – Aircraft general knowledge
3 months
£4.00
Helicopter – Flight Performance and Planning
3 months
£4.00
Helicopter – Navigation
3 months
£4.00
Helicopter – Operational Procedures
3 months
£4.00
Helicopter – Principles of Flight
3 months
£4.00
Related Articles