So you may be looking to learn how to fly, but you keep seeing a number of different private licence types and you're not sure which is best for you and what exactly the difference between them is?
Here's a handy guide to help you understand more about each licence.
NPPL – National Private Pilot Licence
The name of this licence partly gives away what it actually is. It's a licence issued by the UK Civil Aviation Authority and up until April this year (2018), allows the holder to fly a UK registered aircraft with upto 3 passengers in daytime visual flight conditions (essentially good weather). However, as of April 2018, European changes come in to effect which will mean that anyone holding a National Private Pilot Licence, will only be allowed to fly the following aircraft:
Microlights
Vintage aircraft
Permit-to-fly aircraft
Kit-built aircraft
These aircraft are deemed to be 'non-EASA' aircraft and therefore can be flown on a 'non-EASA' licence, the NPPL. The problem here is that your standard flight school aircraft is likely to be a Cessna or Piper type aircraft, which is an EASA aircraft, therefore you would be unable to self-hire these aircraft after completing your licence. The NPPL will still remain in existence post-April, however it is likely that anyone wanting to learn to fly should consider the EASA LAPL licence, which is detailed below.
EASA LAPL – European Aviation Safety Agency Light Aircraft Pilot Licence
This licence is effectively the 'new NPPL'. The licence is aimed at leisure pilots, so anyone that doesn't want to add instrument ratings or continue on to commercial flying. The EASA LAPL however now has more stringent medical requirements than it's national equivalent. To gain a LAPL you will be needed to pass an EASA Class Two medical exam and hold a valid certificate, more of which you can find out about here. If you already hold a LAPL licence then you will only require a medical declaration in accordance with the CAA's recent exemption, see here for more.
To gain a LAPL you will need to complete 30 hours of flight training which will include a minimum of 15 hours with an instructor and 10 hour of solo-supervised flight. The training, like the PPL will consist of circuit training and navigation flights. You will need to complete a Qualifying Cross Country flight and also a LAPL Skills Test with an authorised examiner.
On gaining an EASA LAPL, you will be able to fly a single engine light aircraft with upto three passengers onboard in good weather conditions as the licence itself includes what is effectively a single-engine piston rating and is valid for life. You can find out more specific information on the Light Aircraft Pilot Licence here.
Find out about a Light Aircraft Pilot Licence here
EASA PPL – European Aviation Safety Agency Private Pilot Licence
This licence is relatively unchanged from it's traditional form, it's what the majority of private pilots will hold and the licence that is the first step to a commercial pilot career. The licence holder can add a number of ratings to allow them to fly in darkness and bad weather conditions as well as multi-engine aircraft. Under new EASA rules a PPL holders can also earn money by instructing or examining.
To gain a PPL you will be required to gain an EASA Class Two medical, more of which you can find out about here
The PPL requires a minimum of 45 hours of training of which 25 hours minimum will be under instruction and 15 hours minimum will be supervised solo flight. Like the LAPL, you will be required to complete a solo qualifying cross country flight and also a PPL Skills Test with an authorised CAA examiner. You will also need to pass a number of multiple choice examinations in a number of sittings. You can find out more about these in our PPL section.
As a holder of a PPL which if completed on a single engine piston aircraft, will be issued with a Single Engine Piston rating, your privileges will include the ability to fly a single engine aircraft in good weather conditions with passengers but unless you are instructing you will not be able to receive remuneration for your flying but you are able to cost share with your fellow passengers. Your SEP or Single-Engine Piston Rating will be valid for two years and will be kept valid either by meeting a minimum amount of flying hours or a flight with a CAA examiner.
Find out about a Private Pilot Licence
Differences between an EASA LAPL and an EASA PPL:
LAPL

PPL

Training Required

30 Hours

45 Hours

Theoretical Exams

9 Multiple Choice

9 Multiple Choice

Validity

Lifetime

PPL – Lifetime

SEP – 2 Years

Medical Requirements

LAPL Medical

EASA Class Two Medical

Additional Ratings

Night Rating

Multi-Engine, Instrument Rating, IMC Rating, Night Rating

Aircraft Type

Max Take Off Weight of 2 Tonnes

3 Passengers

None
Below is a simple diagram which may aide you in deciding which licence is best for you: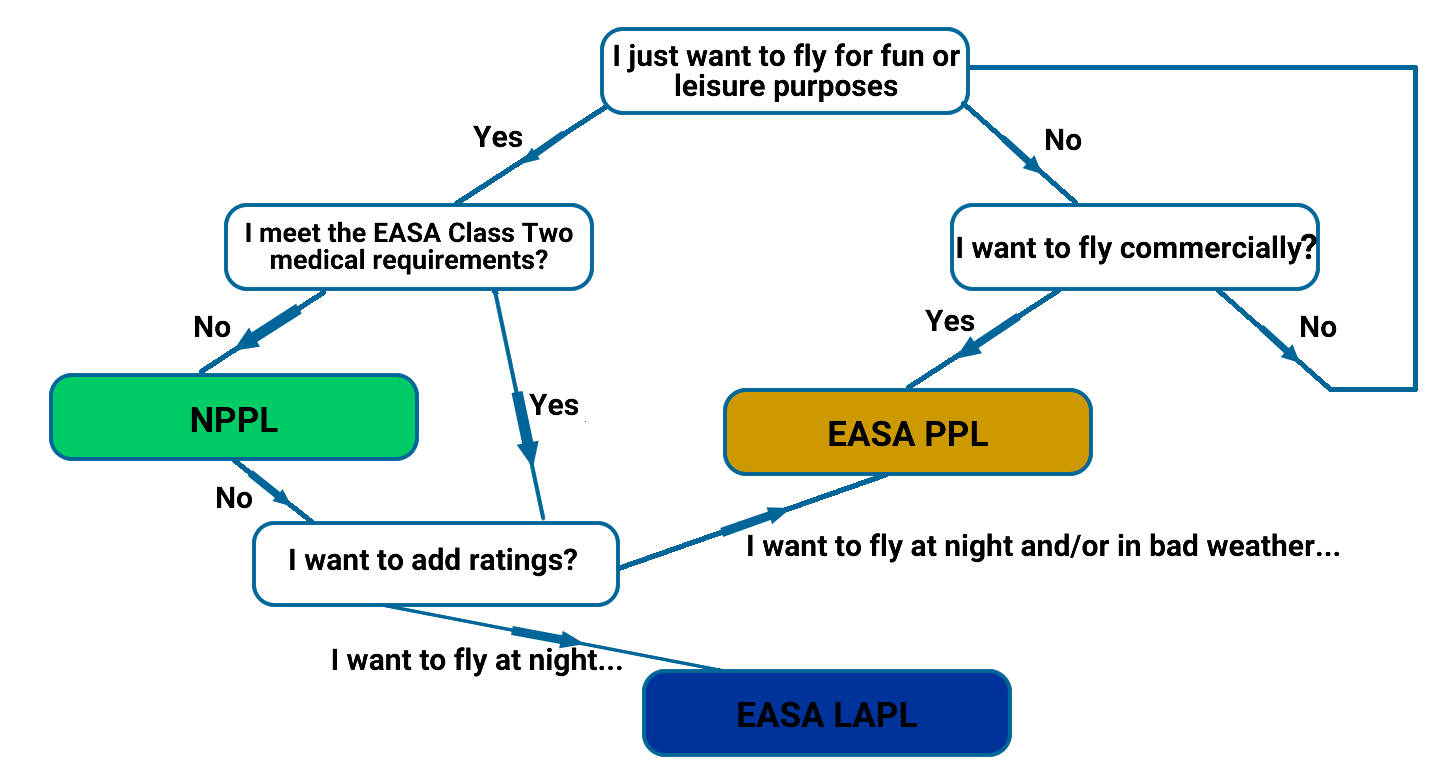 Please note that by having the above licences alone will not allow you to fly for example at night or in instrument flight conditions, you will require a rating on top of your licence to fly in these conditions, find out more here.
Related Articles