Norwegian Airlines this week announced their latest transatlantic routes, using Boeing 737 Max aircraft from 5 different Irish and UK airports to the United States. The services are scheduled to start in June 2017 and will connect with Hartford, Newburgh Stewart and Providence on the US East Coast.
Norwegian will operate their fleet of brand-new Boeing 737-8 Max aircraft to the three US destinations from Belfast, Cork, Dublin, Edinburgh and Shannon airports, 38 times a week. The aircraft will be configured with 189 seats, the same as their current fleet of 737-800NG aircraft, but with huge fuel-savings, comfortably be able to make the jump across the pond.
The airline has decided to use secondary-airports in the US, which allows them to offer very low-fares but also still enables passengers to make good connections with New York and Boston.
Crew bases will be set up at both Newburgh and Providence, which will support the new flights along with crews based at Edinburgh in Scotland.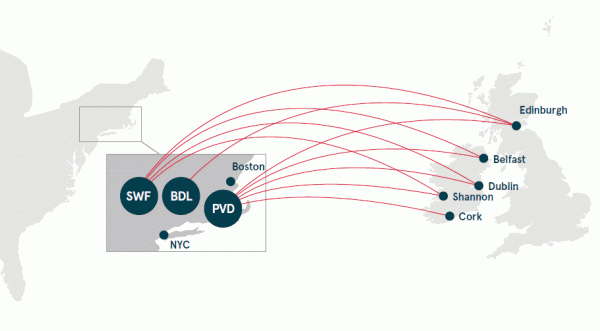 Norwegian CEO Bjorn Kjos said:
"We are pleased to announce our new highly-anticipated transatlantic routes. Our new, non-stop service will enable tens of thousands of new travellers to fly between the continents much more affordably. Norwegian's latest transatlantic offering is not only great news for the traveling public, but also for the local U.S, Irish and UK economies as we will bring more tourists that will increase spending, supporting thousands of local jobs.

"We are excited to finally be able to launch services to the US from Ireland, Northern Ireland and Scotland, and we would like to express a big gratitude for the extensive support from consumer groups, government officials, airports, and the travel and tourism industry on both sides of the Atlantic in our quest to offer affordable transatlantic flights for all."
Find out more and book flights
View Pilot Job Vacancies for Norwegian's Boeing 737 Max