On Saturday, modular training provider Kura Aviation launched a brand-new course, BESTPILOT Modular Pathway, which combines 'the high quality training and risk reduction measures of an integrated training programme, with the hugely attractive pricing of the modular training route.'
BESTPILOT Modular Pathway is an innovative new training programme developed by Kura Aviation Limited C.I.C. in partnership with CATS Aviation Training, Tayside Aviation, The Ultimate High Academy and Virtual Aviation Flight Training, all highly regarded specialists in their respective sectors.
One of the biggest problems facing anyone planning to under-go flight training, be it by the modular or the integrated route, is the extremely high cost and no guarantee of a job on completion. With this ever uncertainty, many integrated training providers go beyond the regulated training requirements and incorporate measures such as selection, professional development training, employment support and risk reduction as risk reduction measures. Many of these programmes offer benefits but are far out of many trainee pilot budgets. Modular programmes have until now not offered that reasurrance.
With Kura's new BESTPILOT Modular Pathway course, the best of current professional flight training programmes has been incorporated, with the high quality training and risk reduction measures of integrated training, with the all important pricing of modular training.

The structure and content of this new course on offer, follows the philosophy of an integrated programme but with Kura's competency focused professional development training, combined with their advanced CRM Simulator training, has created an industry-leading programme that now bridges the gap between the skills and competencies required for licence issue and those demanded from airlines when recruiting new flight crew.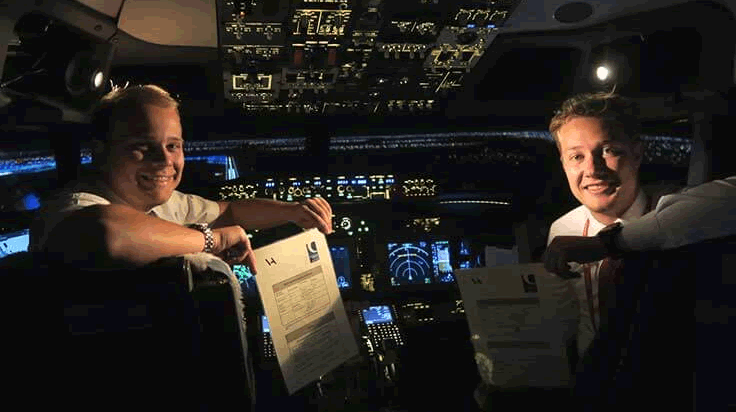 Kura's Managing Director Isobel Hall said:
"For many aspiring pilots the high cost of training combined with the uncertainty of employment, means the risk associated with joining the profession is simply too high. That's not good for the individual or the industry but it is a reality. We believe it is possible to create more opportunity for more individuals to access the profession by driving the cost of training down whilst maintaining risk reduction benefits and the very high level of quality required by the airlines. The BESTPILOT Modular Pathway achieves this".
Jim Watt, Managing Director of Tayside Aviation added:
"We are delighted to form part of the BESTPILOT Modular Pathway. We are able to bring 49 years of experience to the programme which brings together all the advantages of the integrated and modular routes without the high cost, high risk path. It's great to be working with delivery partners who have the same ethos as us – to deliver high quality at an affordable cost".
Kura's innovative new BESTPILOT Modular Pathway, incorporating the high quality training and risk reduction measures of an integrated training programme, with the hugely attractive pricing of the modular training route, is now available, details are as follows:
Course:
BESTPILOT Modular Pathway
Maximum Course Size:
10 Students
Course Cost:
£60,000
Course Details:
It's glamorous, challenging, exciting. Dynamic, inspiring and unpredictable. It offers fabulous career opportunities, every day is different; travelling the world, using ground-breaking technology. A lifetime of unbelievable experiences.
For many, a career as an airline pilot is the ultimate dream.
The BESTPILOT Modular Pathway offers aspiring pilots the opportunity to complete their professional pilot training to the highest possible standard but on a cost-effective and flexible basis; whilst also benefitting from professional development training and employment support. We want our BESTPILOTS to stand out head and shoulders above all other candidates as they prepare for airline entry.
Key Features of the course
All of the benefits of integrated training with the cost and flexibility of modular training
Offers unlimited employment support and skills refresher training
Performance guarantee on Type Rating training
Competency based programme
All UK based training programme
Pre entry Requirements:
ICAO PPL
EASA Class 1 Medical
ELT 6
Abinitio Assessment
Course Structure:
Phase 1:
Pilot Fundamentals
Integrated ATPL Groundschool and Hour Building
Stage 2:
CPL and ME IR
Pilot Development
Airline Jet Transition Course with MCC + JOC certificates
Phase 3:
Advanced Airline Preparation
Upset Prevention & Recovery Training
Graduate support:
BESTPILOT Recommendation
With specific emphasis on the IATA core competencies, we provide the recruiting airline with a comprehensive summary of your training history and achievements including BESTPILOT.
Unlimited Employment Support
You have invested significant time, effort and money in your training and are now airline ready! We are committed to supporting you in finding your first job. This is a partnership where we offer you continuing support and training, free of charge for as long as necessary, but require you to do your absolute utmost to pursue every opportunity.
Performance Guarantee on Type Rating training
The Performance Guarantee is our commitment that graduates of our BESTPILOT programme will fully satisfy the performance requirements of the airline whilst undertaking Type Rating.
Ongoing professional skills training
Successful completion of the BESTPILOT programme is not regarded as the end; rather it is a beginning. Our further commitment to our BESTPILOTs is to offer unlimited skills refresher training right up to finding a job.

Related Articles