Today is International Women's Day, so we decided to take a look at the recent push to get more women into aviation.
From right back to the early days of aviation, women have been involved. In 1930, Amy Johnson was the first woman or 'aviatrix' to fly from Britain to Australia solo. In 1932, 34-year-old Amelia Earhart became the first woman to fly solo-nonstop across the Atlantic, Earhart received the Distinguished Flying Cross from Congress, the Cross of Knight of the Legion of Honor from the French Government and the Gold Medal of the National Geographic Society from President Herbert Hoover.
However, despite these fantastic record-breaking achievements, until recently, aviation has been a very male-dominated industry.  In 2015, research showed that only around 5 per cent of pilots Worldwide were women, easyJet confirmed that only 6 per cent of their pilots were women and British Airways only around 200 of their 3,500 pilots were women. These statistics mean that only one in 20 flights worldwide, would have a female pilot in the flight deck, quite astounding.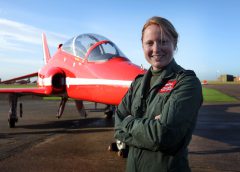 After more research was conducted into these figures, a number of UK airlines decided to start a campaign to encourage more women to get into aviation and indeed the aviation industry. easyJet and British Airways both started campaigns and have been at the front of a number of nationwide campaigns recently.
easyJet, just last year launched an initiative called the 'Amy Johnson Initiative', which aims to double the number of female pilots in their airline over the next two years, you can find out more about this by visiting their careers website and applying.
British Airways, in a push to increase the number of females, published research into what was discouraging women from becoming pilots. Over two thirds of women admitted to being put off, with a fifth believing that they could only be cabin crew and one in ten having grown up being told 'it's a man's job'. Twenty-percent of those surveyed said that they were put off by only ever seeing male pilots in films and TV adverts.
Our all-female crew this morning for #InternationalWomensDay, captained by Kate McWilliams, the world's youngest female Captain! #FlyingHigh pic.twitter.com/0egF2wzVnV

— easyJet (@easyJet) March 8, 2017
So, what opportunities are out there now for aspiring female-pilots? Well, if you're just thinking of starting out, you may want to take a look at the Honourable Air Pilots' funded Private Pilot Licence scheme (closing 14th March), this will allow you to get airborne and gain a private pilot licence at your local flying school.
The British Women Pilot's Association just recently announced SIX scholarships for female pilots, from just starting out, to a ground school scholarships, find out more information about this now and apply now through the BWPA website.



There are also a number of airline cadet pilot schemes available which can be found in our sponsorship section. Alongside these there is also the Amy Johnson Initiative by easyJet, which can be found on their careers section, for women who are just starting out on an aviation career to already qualified pilots looking for a change of employer.
Links to find out more:
easyJet Amy Johnson Initiative
British Women Pilot's Association
Air Pilot's Scholarship
International Society of Women Airline Pilots
RAF Air Cadets
Related Articles