Category: Financial Guides
Our guides to the cost of learning how to fly.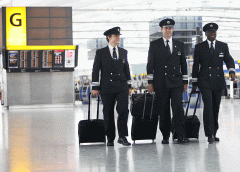 Welcome to our Commercial Pilot Salary Guide, updated for 2018 Before you read this guide to Airline Pilot Salaries we must stress that this in some areas is speculative and many details have been submitted by users and may not be 100% accurate, however it may give you a rough idea what to expect: The airline world in particular, works...
Read More
For those wanting to become an airline pilot, the biggest obstacle by far, is how to afford the ever-rising cost of training. Sadly, there isn't a lot of help readily available out there, and certainly not for those younger budding-pilots who have their hearts set on an aviation career. At present, there are no UK-based airlines offering full-sponsorship course, where...
Read More